My meagre attempts at skinning can be viewed and downloaded from this article. Though my artistic skills are very low I nonetheless provide some hints at technical understanding the whole custom skins act in Darkstone.
What you'll need in order create your custom skins are the default skins (so-called SkinKit), which can be downloaded from here. To create / adapt the targa bitmaps you'll also need some image processing tool like Photoshop, Paintshop, Gimp or something similar.
There are a couple of mistakes that beginners like to make really often. So pay attention to these:
Update your game version
Bring your installed Darkstone version to 1.04 or higher, so you can use custom skins. It's strictly recommended to patch up to the latest version (1.05b) anyway. You can download the Patches at the category Patches.
Use Correct Directory Names
In order to use custom skins in your Darkstone game folder the subdirectory "skin" has to exists. Case and singular matters, so "Skin" or "skins" won't work either!
Mind Naming Conventions
To use a custom skin for your character, two files must exist in the skin-folder: "charactername.tga" and for the face "charactername_face.tga". Your Windows OS may not display the correct file-extensions if you didn't customize your explorer options, so be careful that the files aren't named charactername.tga.tga.
If Darkstone is unable to load the skin file it takes the default skin for the appropriate character class. If the skin file can be loaded but is corrupt (i.e. wrong targa bitmap format) the character is shown as a white ghost.
Avoiding Ghost Skins And Weird Textures
The white / ghost skin appears usually when using a wrong file format for the skin files. You need to make sure that your skins are stored as 24-bit uncompressed targa bitmaps.
If the textures don't fit to the character model, it's mostly because you are using a wrong type of skin. Pay attention to the fact, that a skin for the amazon class can only be used with an amazon model as well. It should not be used on other characters (i.e. monks, rangers, etc.).
Picture Manipulation
To create a new skin for your character, choose the corresponding default skin and create a copy of it to work with. Rename it to charactername.tga and place it in your skin folder. Here's an example for the default skins (a Monk):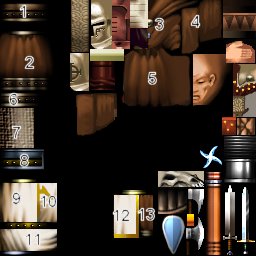 A detailed mapping for the contents of the targa skins can be found in the article Skins Targa Mapping.
Now open the skin file and make your changes. You could cut special regions of the skin, edit them and paste them back to the original skin file.
| | | | | | | |
| --- | --- | --- | --- | --- | --- | --- |
| Source Skin | | Cut | | Edit | | Paste |
| | >> | | >> | | >> | |
To view the changes it is recommended to run Darkstone simultaneously and switch between your image processing tool and Darkstone with ALT + TAB. You have to reload a savegame in order to make the changes on the skin viewable.
And here're some of my meagre attempts:
| | | | |
| --- | --- | --- | --- |
| Monk Skin | Thief Skin | Assasin Skin | Amazon Skin |